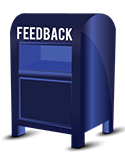 Proctored Exams
WTAMU utilizes three main forms of proctored exams: Examity, Respondus LockDown Browser (RLDB) and RLDB and Monitor. Not all courses, exams/quizzes, or faculty require proctored exams.
Why Proctor Exams?
Students often question why proctoring of exams is needed. Federal law requires that online programs be able to authenticate students.
Proctoring Options
Faculty are able to choose which options students have for proctoring.
Respondus LockDown Browser (RLDB) and Monitor - Information on Respondus LockDown Browser (RLDB) and RLDB Monitor.
Used in many courses needing additional security on exams. Under the WTAMU license, there is no cost for students to use RLDB and/or Monitor.
Examity Proctoring - Information related to Examity.
Examity is typically only used for Comprehensive Exams and for some high-stakes testing in specific degrees. There is an additional fee based on length of time of the exam that students will be required to pay.
Book a Test Proctor Room
HELC Proctoring Room Request - If you do not have access to a computer, or need a private room to test, please complete the form. Please note, there is only 1 room/computer available at this time. Please reserve early.