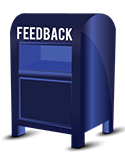 One Button Studio
The One Button Studio allows students a location to easily create a more professional quality video, all you need is a flash drive!
One Button Studio Hours:
| | |
| --- | --- |
| Mon-Fri | 8:00 am - 10:00 pm |
| Saturday | 8:00 am - 5:30 pm |
| Sunday | 10:00 am - 10:00 pm |

*Available dates follow university and HELC open dates.
How to Make a Reservation:
Visit the One Button Video Studio Reservation page.
Click on a time slot during open hours for the One Button Studio. Time slots are for 30 minutes – you can reserve up to 3 back-to-back time slots if needed for longer videos. (90 minute maximum.) This is a production studio only – no editing in this studio.
Click Book (in green), link is located towards the top of the browser.
Complete All Information Fields – please use your WT student email address in the email field.
Review the tips/notes in the reservation confirmation email you will receive in your student email account after making a reservation. This will ensure you are ready for your video shoot before your arrival.
Can't make your appointment? Please release your reservation in the reservation system in advance.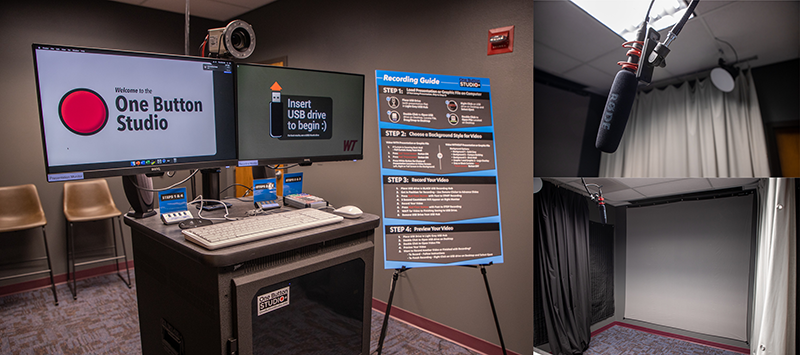 Planning tips for the One Button Studio:
Book early so you have plenty of time to meet your deadline.
Arrive early and check-in at the Counter in the Open Access Lab.
Bring a USB drive to save your video on (Recommend Size for 1+ Hour of Video = 16GB)

16 GB USB Drives are available for sale at the HELC counter for $3.50. You must use your Buff Gold Card for payment. Add money to your Buff Gold Card by visiting the Buffalo Gold Card site or visit the library (upstairs from HELC) to add cash to your Buff Gold Card.

Have your presentation file, or any graphics you want displayed during your presentation, ready on your USB drive.
Have a script or notes and a plan of action. It is often helpful to prepare for your presentation in advance.

A teleprompter is available for use. If you plan to use the teleprompter, please contact ITMultimedia@wtamu.edu prior to your reservation for help with setup.
Recording Tips:
Look at the camera lens while presenting.
Speak clearly and carefully when you are recording, so that your audience will be able to understand you when they view your video.
If you plan to use the Green Screen (required if you are displaying a presentation or using a background) avoid wearing any clothing item that is green. Note: Some tones of blue-green also will not work well with the Green Screen.
Additional Information
How to Submit a Video Assignment Using OneDrive to an Assignment in WTClass
Questions? Email us at: ITS@wtamu.edu and a member of our staff will be happy to assist you.